Financial Information Library
WEALTH
Wealth is the true measure of your financial standing. Wealth is simply a sum obtained by subtracting your total debts from all your earning (physical and intangible assets); be it of an entity or an individual. In other word, it is also called as net worth. The more positive the net worth is, the wealthier you are.

WEALTH MANAGEMENT
Wealth management is a process that involves financial planning, investment planning, portfolio management, Tax planning and other related financial services. Wealth management is a professional service that is offered by wealth managers or financial advisors; who are well versed and by qualification top notch MBA's, Certified Financial Planners as well as financial professional's with an in depth experience or speciality and relevant experience in handling the same.

MUTUAL FUND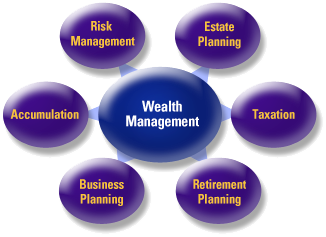 MUTUAL FUNDS
A mutual fund is a collective pool of investment, pooled from many investors invested in the capital market. The earnings from investment are distributed among all the investors. The investment could be made in many financial instruments in the market like equities, debentures, NSC's, etc. Specialists who take care of these transactions are known as fund managers.

Mutual fund's is an option for people who cannot directly invest in to the equity market. Mutual fund's are a safe mode of investing in equity market especially when one has limited knowledge about the equity market or even the paucity of time to master the same.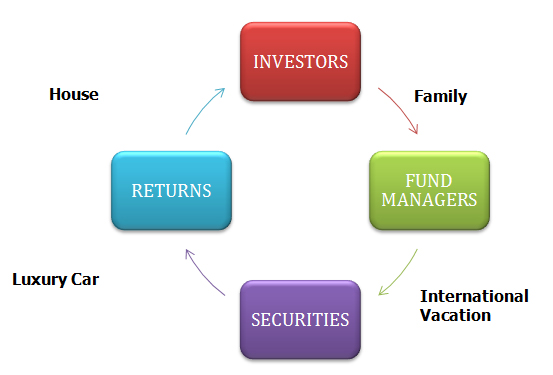 TYPES OF MUTUAL FUNDS :
ADVANTAGES OF MUTUAL FUNDS
1. PROFESSIONALLY MANAGED: Mutual funds are managed by investment professionals. Our Fund Managers are skilled and experienced in mutual fund transactions as they have access to real market information and are able to make trades on very large and therefore cost effective securities packages.

2. DIVERSIFICATION: Mutual funds can help an investor diversify their portfolio in the case of limited funds. Investing in different securities can reduce and further mitigate the risk of losses. Further diversification is also obtained by investing in different sectors or categories when a particular sector or category is on a boom period. This helps in cutting risk associated with a particular sector as well.

3. CONVENIENCE: For a common man who cannot directly invest in the capital market, mutual funds are the best way to invest one's money. It offers a safe return on investment while minimizing risks.

4. MINIMUM INITIAL INVESTMENT: Most Investments have a minimum initial purchase of Rs1000 or even less offered by different mutual funds. Investors can buy funds even on a monthly, quarterly, half yearly basis or even annually based on their convenience.

DISADVANTAGES OF MUTUAL FUNDS:
1. FINANCIAL RISKS: Mutual funds are subject to market risks. Mutual funds could result in losses and therefore there is no insurance against losses for an investor. In spite of risk reducing techniques that can be applied by fund managers, losses can occur. There is even a possibility to lose your entire investment.

2. UNCERTAINITY: Investing in wrong mutual funds can lead to fewer returns or even no returns based on circumstances and market conditions. Returns in such cases are uncertain. Therefore carefully choosing a mutual fund company and Mutual fund plan needs expert advice. It is best advised to stick to financial advisers in case of large investments.

3. COSTS: Mutual Funds always come with a cost. Apart from Investment, fees of financial advisers or fees of fund managers is also an investment. Regardless of the result (profit/loss), investors have to pay a fees. However, it is not true in every case. Some financial advisers always aim generating best results and returns for an investor. Fund managers try their best to keep investors in profit.

4. MARKET FLUCTUATIONS: Market's are always fluctuating and therefore can rise and fall at any given point of time. An investor should be prepared to take risks in such situations and make the right investment decisions. In certain situations , even the best fund manager may fail to generate income or return from investment as originally anticipated.

INSURANCE
Insurance is compensation against a future loss. However payment for the same has to be made on an agreed timely manner; be it monthly, quarterly, half yearly or even annually. Insurance is basically aimed at protecting the financial well-being of an individual, company or any other entity. The agreed terms for insurance is called Insurance policy and payment made for the same is called premium. Insurance are of many types ; Health Insurance, Fire Insurance , Vehicle Insurance , Life Insurance and so on.

PRINCIPLES OF INSURANCE
UTMOST GOOD FAITH:According to this principle, the insurance contract must be signed by both parties in absolute good faith and trust. Both parties should give true information and disclose all true facts and figures. All information exchanged should be true. Any of the parties should not indulge in malpractice of any kind.

INDEMNITY: This principle is applicable to all types of Insurance. Under this principle, it is stated that the insurer must protect and compensate the insured against any damage , loss or injury. The insurer must help the insured in restoring his loss. However, the loss to be compensated should be measured in terms of money and compensation given only to the extent of the loss suffered. The maximum amount of compensation is subjected to amount of insurance only.

INSURABLE INTEREST: An individual, entity or any organisation planning to take a policy must have a clear objective of taking up insurance. The presence of insurable interest is the first and foremost anlegal requirement for any insurance. Without an insurable interest, insurance is considered legally invalid and no claims can be made at a later stage in any court of law. The objective of this principle is to avoid insurance to become a mode of gambling.

SUBROGATION: This principle states that when the insurer is compensated for any loss arising out of a property, the ownership of such asset will be transferred to the insurer/insurance company. This principle is applicable to all other insurance apart from life insurance. This principle prevents the insured being indemnified or compensated from two sources.

CONTRIBUTION: When a property is insured with more than one company , the total sum of insurance should not exceed the total value of the property. This principle states that insurer cannot claim more than what loss he/she has suffered. The loss is compensated in proportion to the insurance taken by different companies but will not exceed the total amount of loss.

PROXIMITY CAUSE: This clause does not apply to life insurance. According to this clause, the closet or the nearest cause of the damage should be taken into consideration to decide the liability of the insurer. Such a clause stands good when loss is caused by a series of events.

LOSS MINIMIZATION: This principle states that an insurer must try to minimize his losses and save whatever is possible. This applies in case of Fire Insurance wherein the insured should try to save what is left in case of fire based accidents. This principle applies to insurance of property.
TYPES OF INSURANCE

TAX PLANNING

UNDERSTANDING TAX
Tax planning is about making strategic decisions that can minimize a variety of taxes. Federal income taxes, state income taxes, social security tax, self-employment tax, personal property tax, real estate tax, and a variety of sales and use taxes are all considered in overall tax planning.

Tax is a compulsory contribution to state revenue, levied by government on income earning individuals, businesses, sales, services, transactions, etc. Non Payment of tax is a punishable offence In India.

Timely payment of tax will benefit the common man as these monies are utilised for welfare of general public in more than one way by government. Tax calculation differs according to the income earned by an individual or income earned by a business, amount of sales, etc.

Planning is the key to successfully and legally reducing your tax liability. We go beyond tax compliance and proactively recommend tax saving strategies to maximize your after-tax income.

We make it a priority to enhance our mastery of the current tax law, complex tax code, and new tax regulations by attending frequent tax seminars.Businesses and individuals pay the lowest amount of taxes allowable by law because we continually look for ways to minimize your taxes throughout the year, not just at the end of the year.

Client feedback indicates our tax planning service is one of the most valued service provided and is educational. Think of the relief. Knowing your tax situation 5 or 6 months ahead of the April 15th deadline is invaluable.Remember, we work for you not for the IRS.

Many of our clients save many times the fee in reduced tax liability through careful planning and legitimate tax strategies.

TAX PLANNING:
Tax Planning is a process of financial planning of an individual's income or assets and minimizing tax liability. Tax planning starts by analysis of an individual's financial situation i.e. the calculation of the total income of an individual for a particular year/term. This enables an individual to calculate the final tax amount and also discover the possibility of reducing theoverall tax liability through different rebates that are currently available on taxation; as well as help in being tax efficient.

LATEST INCOME TAX SLABS IN INDIA :
India Income tax slabs 2012-2013 for General tax payers
| | |
| --- | --- |
| Income tax slab (in Rs.) | Tax |
| 0 to 2,00,000 | No Tax |
| 2,00,001 to 5,00,000 | 10% |
| 5,00,001 to 10,00,000 | 20% |
| Above 10,00,000 | 30% |

India Income tax slabs 2012-2013 for Female tax payers
| | |
| --- | --- |
| Income tax slab (in Rs.) | Tax |
| 0 to 2,00,000 | No Tax |
| 2,00,001 to 5,00,000 | 10% |
| 5,00,001 to 10,00,000 | 20% |
| Above 10,00,000 | 30% |

India Income tax slabs 2012-2013 for Senior citizens (Aged 60 years but less than 80 years)
| | |
| --- | --- |
| Income tax slab (in Rs.) | Tax |
| 0 to 2,50,000 | No Tax |
| 2,50,001 to 5,00,000 | 10% |
| 5,00,001 to 10,00,000 | 20% |
| Above 10,00,000 | 30% |

India Income tax slabs 2012-2013 for very senior citizens (Aged 80 and above)
| | |
| --- | --- |
| Income tax slab (in Rs.) | Tax |
| 0 to 5,00,000 | No Tax |
| 5,00,001 to 10,00,000 | 20% |
| Above 10,00,000 | 30% |



EQUITY LINKED SAVINGS SCHEMES (ELSS)
An ELSS (Equity linked savings Scheme) is a diversified equity fund subject to change in income tax regulation. They have 3 year lock in period. ELSS offers tax deductions under section 80C for investments up to 100000(subjected to change in tax regulation).

There are two types of ELSS plans, growth option and dividend option:
1. GROWTH PLAN: Under the growth plan the investor does not get regular income. However, the investor gets the income after the term of the ELSS is over or if it is pre maturely cancelled. The advantage of this plan is that the investor receives a lump sum amount at the end of the term. The only disadvantage is that there is no regular income flow.
2. DIVIDEND PLAN: This is the opposite of the growth plan. In this plan the investor receives a regular income through the duration /term of the investment. However, it is uncertain that amount is stable. It could be erratic. The disadvantage of this plan is that at the end of the term , the total income earned is not lump sum.

ADVANTAGES:
Provides a regular income to investors
Provides tax exemptions under sector 80c.
The lock in period is comparitively short than other instruments like NSC or PPF.
Earning potential is higher as it is equity linked scheme
Investors can also opt for systematic Investment option(SIP) and invest in small amounts as well
Under Growth plan option , an investor can earn more returns on investment.

DISADVANTAGES:
Pre mature withdrawl of funds are not allowed except in some cases.
Risks factor is high as ELSS is related to equity market.